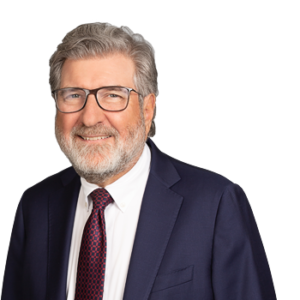 David H. Fink is managing partner of Fink Bressack. He has more than 40 years of litigation experience, winning important victories in state and federal trial and appellate courts.
---

He focuses his practice on complex commercial and class action litigation, including business matters, antitrust, consumer fraud, environmental law, intergovernmental disputes, securities fraud, shareholder derivative litigation, insurance coverage and construction contract matters.
David has been selected as a Super Lawyer in Michigan Super Lawyers magazine every year since 2007 and was selected by Michigan Lawyers Weekly as a "Leader in the Law" for 2011. In 2016, 2017, and 2018, Michigan Super Lawyers magazine designated him one of the top 100 lawyers in Michigan and one of Michigan's top 50 Consumer Lawyers. In 2019, David was selected by Michigan Lawyers Weekly for its inaugural Hall of Fame class. Since 2018 David has been selected as a DBusiness Top Lawyer.
David served on the Michigan State Officers Compensation Commission from 2011 through 2014 where he fought for pay increases for Michigan judges. He served on the State Bar of Michigan Judicial Qualification Committee, which reviews candidates for state judicial positions. In May of 2013, the Judges of the Eastern District of Michigan appointed David to serve as Chair of a Magistrate Judge Merit Selection Panel.
David is a member of the Oakland County Bar Association, the Detroit Bar Association, and the Federal Bar Association. He currently serves as co-chair of the Eastern District of Michigan Federal Bar Association Book Club.
Prior to founding Fink Bressack , David worked in private practice beginning in 1978 with a break from February 2003 until November 2005, when he served in the cabinet of Governor Jennifer M. Granholm as State Employer.
David is actively involved in civic and community affairs. He served as President of the Bloomfield Hills Schools Foundation and was as a member of the Board of Directors for Jewish Family Services of Metropolitan Detroit.
While David probably enjoys practicing law more than he should, his greatest satisfaction comes from the time he spends with his five perfect grandchildren, four of whom happen to be the children of Fink Bressack attorney Nate Fink.
David is a magna cum laude graduate of Harvard College and a cum laude graduate of Harvard Law School.
Harvard Law School,
Juris Doctor, cum laude, 1977
Harvard College,
magna cum laude, 1974
Michigan
District Court for the Eastern District of Michigan
District Court for the Western District of Michigan
U.S. Sixth Circuit Court of Appeals
U.S. Seventh Circuit Court of Appeals
U.S. Supreme Court
State Bar of Michigan
Administrative & Regulatory Law, Alternative Dispute Resolution, Antitrust, Insurance and Indemnity Law, Business Law, Environmental Law, Labor & Employment Law, Government Law, Health Care Law, Litigation, and Consumer Law Sections
Oakland County Bar Association
Fellow, Oakland County Bar Foundation
Detroit Bar Association
Federal Bar Association