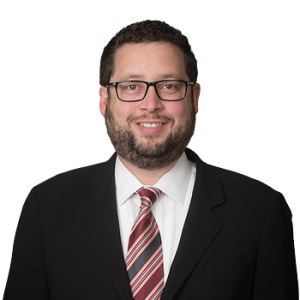 We mourn the passing of Fink Bressack co-founder and partner, Darryl Bressack. Darryl passed away suddenly on January 24, 2021, after suffering a heart attack. He was just 43 years old.
---

Darryl earned a Bachelor of Arts degree from the University of Florida and moved to Michigan to attend the University of Michigan Law School. During law school, he fell in love with the area and decided to stay.
In 2011, Darryl was one of the founding attorneys of Fink Bressack. He focused his practice on complex litigation, including commercial litigation, shareholder disputes, antitrust, and municipal matters. He handled both individual and class actions. He was an extraordinary writer with a gifted legal mind. He was recognized for his skills and honored as an "Up and Coming Lawyer," by Michigan Lawyers' Weekly.
Darryl was passionate about providing pro bono service. Before going into private practice, Darryl worked under a federal grant to represent victims of violence in civil court matters. He was an extern with the South African Human Rights Commission and interned for the Cambodian Defenders Project. He was also an active member of many area bar associations.
Darryl Bressack had a world-class sense of humor. He was many things – kind, generous and well travelled – but he was first and foremost a devoted and delighted father to his beloved 12-year-old daughter, Eliza. In addition to Eliza, Darryl is survived by his former wife and mother of their daughter, Barbara Bressack (Nicole Toth), parents Herbert Bressack and Prafulla Devi, siblings Benjamin (Alicia) Bressack, Arjuna Bressack, Jaya Bressack, Ean (Michelle) Bressack, and Miriam Letts. Other family includes Benjamin Bressack Jr., and his daughter Lylla Bressack, Gavin and Georgia Bressack, Kiera and Kadrianna Letts. A private family service was held on Wednesday, January 27. For more details, please visit Ira Kaufman.