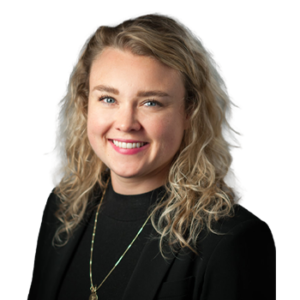 As a certified and experienced trial practice attorney, Morgan D. Schut is skilled at navigating complex legal matters with a balance of sensitivity, efficacy and precision.
---

Before joining Fink Bressack, Morgan practiced at two respected Detroit-area law firms, where she successfully represented clients in federal and state courts in a wide range of complex commercial and other litigation matters.
The Michigan Defense Trial Counsel awarded Morgan with the 2021 Golden Gavel award for their annual Legal Excellence Awards.  She was named 2020 Barrister of the Year by the Detroit Bar Association.  Morgan is the Vice President of the Detroit Bar Association Barristers Section and a member of the Pro Bono/Access to Justice Committee.  With the Pro Bono/Access to Justice Committee, and in response to the COVID-19 pandemic, Morgan helped create and launch the Detroit Legal Services Virtual Clinic to allow local attorneys to provide virtual legal advice and rights consultation in general civil law and other areas for the metro Detroit community.
Morgan received her Bachelor of Arts degree from Western Michigan University, in her hometown of Kalamazoo, where she graduated with honors. Morgan received her juris doctor with honors from Michigan State University College of Law.  While in law school, Morgan was selected to participate in a competitive, two-year trial practice certification program.  Morgan interned in the Michigan Court of Appeals during law school. She also participated in the civil mediation clinic, where she worked as a certified mediator and gained experience mediating dozens of civil disputes.
Since 2016, Morgan has coached high school mock trial teams through the Michigan Center for Civic Education.  Morgan has most recently worked with the Mercy High School mock trial team.
Morgan resides in midtown Detroit.  In her spare time, she enjoys yoga, traveling, hiking, spending time on Lake Michigan (South Haven), and trying every new restaurant in Detroit.
Michigan State University College of Law,
Juris Doctor, with distinction, 2016
Member, Trial Practice Institute
Western Michigan University,
Lee Honors College
Bachelor of Arts, with distinction, 2012
Michigan
U.S. District Court for the Eastern District of Michigan
U.S. District Court for the Western District of Michigan
State Bar of Michigan
American Bar Association
Detroit Bar Association
Vice President of Barristers Section
Co-Chair of Law Day
Access to Justice/Pro Bono Committee
Oakland County Bar Association
Fellow, Oakland County Bar Foundation
Michigan Defense Trial Counsel